Matt's Last Room
We entered the city of Baltimore fresh from a rejuvenating romp through the Philadelphia Museum of Art. I spent most of the car ride watching a John Cassavettes documentary, and when I came out of my self imposed isolation Rachael was suffering from migraine-induced nausea. The gas station we stopped at had no restroom, so Zac and Rachael went to the nearby Dunkin' Donuts (which actually ended up saving Rachael's life, long story). I, on the other hand, exercised my God-given right to urinate in the open air, a profound experience which rekindled my belief in the transcendent.
The place we were supposed to play that night was five floors up in a big loft space known as Wham City, on the set of a live variety show. It was an extremely chaotic scene to walk into as a band, with all kinds of people running about hectically trying to get everything together at the last minute. We were forced to engage in physical and psychological warfare with the very small loading elevator, whose demonically possessed door tried its hardest to crush the bones of one Eddy Crichton. He really should know better by now than to taunt the Ghost in the Machine.
Unfortunately, I don't remember the name of the talk show we played on [ed. note: The Ed Schrader Show], but it was better than I thought it was going to be. Our set was quite awkward as I remember, plagued with technical and strategic difficulties. There were cameras set up, and I took the opportunity to try and perfect the Ron Mael stage presence that I'd been trying to work on during our shows. The camera people got freaked out and started looking up at me like something was wrong.
Zac inexplicably disappeared immediately after our show and we later found out he was feeling terribly ill. He went to lay down in the loft downstairs and Rachael, Eddy and I went out on the town for a drink. The dreadlock-sporting bartender looked exasperated at us as we ordered or drinks, then we sat down at a table that smelled exactly like human vomit. We got up to move, Rachael explained to the bartender that we would be at a different table, but the booth we moved to also smelled like vomit. At this point the bartender was about to begrudgingly bring us our drinks as we told him we were moving yet again. We hung out for a while against the wall parallel to the bar which was directly facing a mirror (a perfect recipe for one of the most awkward possible social drinking situations). Then when we wanted to pay our tab the bartender inexplicably expected me to give him a tip ON TOP of the normal tip. Fuck you dick.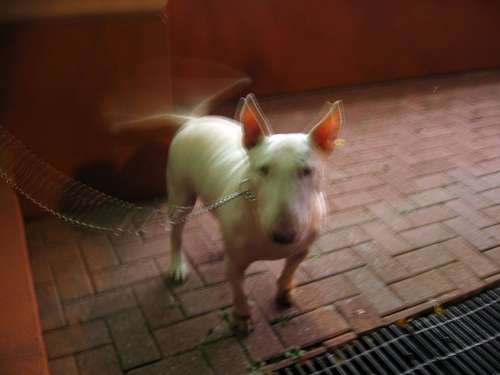 We also met this guy in Baltimore, who was under the grave misconception that he was cute.
Our sleeping situation that night was somewhat perilous, though not due to a lack of niceties on the part of our hosts. Rachael was continually woken up from wall and plaster crumbling off and falling onto her. The bathroom was weird. That kind of stuff.
We had the next day off, so we hit up a local multiplex for a day of movie-hopping. When we arrived, we witnessed a large man exercising one of his very own god given rights beside his car, in the broad parking lot daylight. I hope it meant as much to him as it did me.
Our first flick was Martin Scorsese's The Departed, which everyone more-or-less enjoyed except for Eddy who found it a cringe-worthy version of a standard Hollywood double-cross action flick. That was nothing though, compared with the dread an horror involved in a screening of Richard Linklater's Fast Food Nation. Any valid points this film was trying to make were rendered utterly unconvincing due to its melodrama, blanket moral generalizations, and stereotypically teenage dialog (often spoken by 36 year old Ethan Hawke).
We drove that night across West Virginia, and had an utterly bone-chilling hotel experience involving an obese Native American reception woman who refused us a refund after visiting TWO rooms without functional bathrooms, and a teary-eyed man known only as "Daddy" who visited us in the middle of the night to make sure we had returned the key from the first room, and then mentioned the fact that he lived right below us, despite the fact that our room was on the GROUND FLOOR!
Eddy shaves with a newly acquired $10 electric razor, in a storefront window in Akron, OH
The thing that happened in Akron, Ohio is that we got an absolutely delectable Indian buffet breakfast for absolutely free thanks to Trouble Books Keith. This was the best food of the trip by far and got us all feelin' groovygroovy for the long trip to Indiana.
Bloomington, Indiana. Home to Indiana State University. We played at a vintage clothing store to a modest but reasonable amount of people (especially for the night before the night before Thanksgiving). I was too sick of music to watch anybody's band (dick), preferring instead to hang out at the local sports bar (my true calling as a dick).
In retrospect it seems many of my fondest memories involve breakfast. Maybe it's because of my band members' constant willingness to eat a "gas station breakfast" (candy and pop). Anyways our host once again supplied us with a very nice breakfast of freshly baked bagels and cream cheese. Then he saw us off on our long trek to the eventual destination of Denver, Colorado, for our much looked-forward to Thanksgiving eve rendezvous with the elder Chriton brother, Michael.
Ed's Shed
Being the only (((GRRRL))) genetically predisposed to bagel enjoyment, I was especially delighted to awake in Bloomington, IN and find yet another gratis bagel + shmear breakfast buffet courtesy of Josh. This is yet another example of the hospitality offered to us on this tour that makes me ashamed of the times in which I have called myself host. Thank you, legitimate hosts. Apologies, ex-guests, it never crossed my mind to offer you food. You must have been so hungry.
We arrived at the Vaudeville Mews near the end of their early (and all-ages, and thus, attended) show and were given instructions to wait for the kids to clear out to load our equipment in. In the interim, we went next door to a coffee shop where Zac claims the Dead Science had years prior celebrity-sighted Dave Matthews sipping a bev and being totally regular. No DMB players today though. Matt and I got pretty wired on daintily-cupped espresso shots and walked around Des Moines while Zac and Rachael went back to the early show at the Mews and were audience to an earnest acoustic cover of Eagle Eye Cherry's "Save Tonight," which I had two weeks previous declared as being my most favorite hit song of the post-grunge 90's, and had only days previous requested and lavished praise upon at a pre-concert music video party in Poughkeepsie. Understandably, my absence for this performance has since become my second biggest regret of the tour (first being the mind-blowingly unflattering corduroy pants I purchased at H&M thanks to their trick mirrors and reasonable pricing).
Someone I spoke to outside the Mews after our show attributed the meager attendance to both the upcoming holiday and the lack of 21+ music-listeners in Des Moines. Neither of these reasons make much intuitive sense to me, but I will take them as fact because attendance was certainly meager.
Deluxe accommodations as always in Des Moines, including individual Party Pizzas for everybody, and also every Nintendo and Super Nintendo game anyone would ever want to play. Not only that, but two different TVs! It was a serious orgy of entertainment. After getting most of the Party Pizza grease off of my fingers I took Little Mac all the way to the third round with Super Macho Man in Mike Tyson's Punchout (a personal best), while Zac and Matt struggled in NBA Jam against a COM competitor that apparently just totally cheated in the 4th quarter of every game to come from behind and beat them. I had trouble sleeping that night with eyes burning and thumbs tender from overuse, but I got a mild amount of rest in before our early Thanksgiving a.m. departure for Denver.
"Colorful Colorado"
My older brother and soon-to-be law school graduate, Charlie C., lives in Denver and I was more than jazzed to be spending Thanksgiving with him. We had supplied him with a list of groceries for our Thanksgiving feast and we arrived early evening in Denver to find everything (minus broccoli) accounted for. I don't recall exactly what the general mindset/hunger situation was when we compiled our grocery list, but things must have been weird. Here's the menu: Two different styles of boxed mashed potatoes (Garlic + 4 Cheese), Cheese bread, Vegetable Gravy, and Charlie's Spinach Salad. Brother Charlie also bought us a frozen Pumpkin Pie with a comically astounding three-hour preparation that some of us just totally forgot about by the time it was edibly viable. This was my first Thanksgiving not organized and overseen by a Mother. I felt like a bunch of Kevin McCallisters; abandoned by our parents, but still keeping the spirit of the holiday alive against all odds. I may have even learned the true meaning of Thanksgiving this year.
The next day, Charlie took the 3/4ths Chipotle contingent on a pilgrimage of sorts to the original Chipotle. I did not find the burrito-Graceland that I imagined I would (again, "I" being any 3 of the Parenthetical Girls). The O.C. was actually more like a rough demo version of franchised restaurants. The weird industrial/Kokopelli interior design scheme was not fully realized, there was no assembly line production, and the chairs were awkwardly low. Very humble beginnings.
I spent the rest of the day at a sports bar with Charlie + friends while bandmates R + R'd at his house. I met the band at the High Dive just in time for sound check, which was slightly delayed as the sound man grilled Zac on the exact length of mic cord Zac would need for crowd-surfing. I believe they agreed on 30 ft. though I have never seen Zac crowd-surf that far.
The High Dive was ridiculously accommodating to us: Meal tickets, drink tickets, a guest list not to exceed 10 guests, and a private green room. I did some pre-concert mixing/mingling with Charlie + friends and generally cut a little loose as Team Awesome blew up an insane amount of balloons and delivered their goods, musically. We played solidly and seemed to be well-received in spite of the weird cage that separated us from the 21+s and sort of made us all feel like rage-filled rats.
After the concert, we returned to Charlie's house and I unwrapped my free concert-sandwich only to find it so offensively odorous (sort of a wet socks/Taco Bell Chalupa smell combo) that I felt obliged to eat it in a private room due to turned noses and my own overwhelming sandwich-stink shame. After just a little bit of Rob & Big on MTV, we had to say goodbye to Brother Charlie and Girlfriend Jenny and get our no more than four hours of sleep, the exact amount of sleep needed for one full R.E.M. cycle (according to a 20/20 report Rachael saw) before driving to Boise at 5 a.m.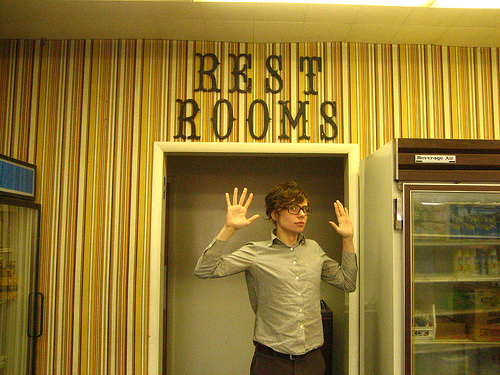 We were all feeling pretty good after our cycles the next morning and breakfasted on some pay-bagels, which really just don't taste as good, as we began our 800+ mile drive. Time passed, we got to Boise in plenty of time to have a delicious Chinese dinner with Rachael's wonderful Jensen family. Our waiter was 10 years old, and though clearly the son of the woman in charge, really appeared to be running the show. At one point he reprimanded his mother for telling him the wrong number of plates to bring to the table and she was all shyly apologetic like she was really going to hear it for that one later.
Our show at the Neurolox was lacking any other bands, and so was also lacking a non Jensen-family audience. Absence of audience was more than made up for by the Neurolux's manic light show and prolific fog machine. We might have looked kind of wild up there, blanketed in fog and showered with lasers. I certainly hope we did.
Post-Neurolux we headed to the Jensen family home where Rachael duetted with younger brother Noah on Christmas tunes on the piano until near a.m. hours. The next morning was the customary Sunday pancake breakfast, more piano jams, a dog wearing a sweater, VHS tapes of childhood, and general family merriment. We said goodbye to the Jensen clan and ended up at Wal-Mart for most of the day (Nampa's only Sunday oil-changer) where I played STP's "Trippin' On a Hole In a Paper Heart" on Guitar Hero II with much more success than the youngsters who hogged the demo PS2 the rest of our Wal-Mart visit.
Our final drive was simply terrifying. We had successfully avoided foul weather for our entire trip, and we finally got our meteorological comeuppance and a harsh reminder that one's life is not a constant pizza-fueled hedonistic party time in the sunshine. A well-timed and deserved reminder, weather.
FIN
The previous entry: Once Upon A Time In Vienna.
The next entry: Your Secular Alternative.
More entries in the Archives