Following my brief stint as a furniture mover in rainy Bedsty, we broke free from NYC for the distinctly collegiate confines of Poughkeepsie, NY. The 148 house--much talked-up some weeks prior by our compatriots in the Dirty Projectors--was appropriately inviting. Having never properly attended college, I've historically reveled in the opportunity to immerse myself in the environs of higher learning, especially when those environs are of the right coast persuasion. And though I did take a great deal of pleasure in Vassar's apparent 5'9" and below entrance policy, my time in Poughkeepsie began the groundswell of dread that would follow me throughout much of our tour--the paranoia of facing the embarrassingly chasmic age divide between myself and seemingly every single other person I would come to interact with. In spite of old man Pennington's desperate self-loathing, our 148 gig went down fairly successfully.

(Photo by Winston)
Our slow departure from Poughkeepsie--which included an extended stop at a Goodwill store whose unkempt vinyl selection was comprised roughly of 65% Christmas albums--further rattled my already crumbling psyche, resulting in a quiet, appropriately infantile hissyfit. We split for Albany.
Eddy and Matt's Third Reich-ian radar perked up upon our arrival in capital city, responding very favorably to Albany's epically lit architecture--architecture we later found was the product of Nazi refugees. Score another one for Himmlerwatch, 2006. The warmth and goodwill in Brooke's ridiculously beautiful apartment--along with her culinary-inclined entourage--were no match for the arsenal of painful inside jokes that we had already managed to amass in our travels... not to mention Matt's shoeless feet on the coffee table. Brooke, et. al.: I'm very, very sorry. And Andrew: the food was amazing.
With Eddy and Matt already knee-deep in their search for the endless party, I finally caved to peer pressure at Valentine's--which ultimately turned out to be for the best, if international talent scout (and sometime Little River Band session man) Johnny Neon [please click on this link] has anything to say about it. That's right... Parenthetical Girls have officially been DISCOVERED. Neon interactions include (but are certainly not limited to): Johnny's awkward urinal trough conversation with me during the Brent Gordon set about how Brooke is "a PLAYER"; Johnny's lengthly conversation arguing about whether or not I had at some point "discovered myself" in Europe; Matt intentionally complimenting Johnny with the confusing (and oft-abused) "prolific" descriptor; Johnny attempting to convince members of our party that he was an "inventor"; Johnny claiming to be friends with Whitney Houston and Stevie Wonder; Johnny telling Rachael about "human buffets" and his opera, "Once Upon a Time In Vienna." Thank you for your vote of confidence, Mr. Neon.
After three consecutive junkies approached us with change requests and awkward goodwill following our show, I rashly decided to sleep in the van--an over-reaction, to say the least. Returning to NYC early so as to see the sights for once, we hit Manhattan with our borrowed Not For Tourists guide to see the most glaringly touristy things imaginable: Central Park, Times Square, the inexplicably elusive Rockefeller Center, and, of course, H&M. Eddy finally got his trousers.
Turns out the fates had again lined up against me in NYC, as the folks at the Cake Shop had neglected to actually book any other bands to play the show--resulting in our mad dash to find anyone we knew in New York who would possibly play at such short notice. Thanks to Elliot from the fine folks of Flying for coming through at a moment's notice and shining brightly, to Sara for the assist, and also to that weird Swedish garage band who closed their opening slot set with the suggestion that the audience promptly leave for another show down the street at Piano's. Thanks to BJ for bringing me a much labored over copy of The League of Gentlemen's Apocalypse. And most of all, thanks to the scant attendants at the Cake Shop that evening--as it was with your help that I finally felt good about a show in NYC.
love madly,
Zac Pennington

I ate too much dessert in Brooklyn. Whiling your time away at a literal Cakeshop (not just a cute name), leads a person to transgress into territories such as birthday cupcakes backed by oreo cake slabs without even wincing. And then to avoid the inevitable sugar comedown, I night-capped with fistfuls of candy corn at Steven's sweet apartment, and slept the fitful sleep of an engorged trick or treater. To Steven, thank you for your presence, your whimsically placed refrigerator, and beautiful patch quilt that I took great pleasure in sleeping with. And of course the candied corn.
The next morning, we woke sans Matt, who had stolen away in the early hours to find this "Museum of Modern Art" they supposedly have in the city. I'm not sure if he found it, I'm not sure if it even exists.

Catching a quick bagel breakfast with Steven and gang was very nice, though I was in sort of sour spirits due to having dug a chunk out of my cheek the night before in an attempt to burst one of those unfortunate subterranean blemishes. If I met you in between Brooklyn and Boise, please forgive me if I was unable to look up. I was existing in a state of shame on account of my marred face.
Has it been mentioned in this blog that 3/4 ( I won't mention names) of Parenthetical Girls are physically addicted to the burritos at chain restaurant Chipotle? Well, it's true. And we map-quested our way to the nearest fix in Brooklyn before departing for Providence. Like a true junkie, I can't even tell if it's satisfying anymore. "I" being any 3 of the Parenthetical Girls.
Upon arriving in Providence, we spotted RISD, which is no big deal to me, but is some sort of teenager's wet dream to Zac. So for him, I mention it. How many slices of pizza I ate on this tour is embarrassing to recollect, but I will say that I ate my favorite slices that night before our show, at the Pizza Queen. It made me feel like I had just eaten a cheeseburger.
I wasn't sure how I felt about Providence until we were walking to the venue and I heard a man report to an understanding police officer, matter of fact, that he "went to the tittie bar, but there were no titties!" Count me in.
When we got to AS220, the crowd was being plied by the sounds or Mad Happy [please click on this link], "a guy/girl electronic duo with a distinctive sound, blending electro, hip-hop, folk and pop." A hard act to follow, to be certain, but the Providence audience was very kind to us. Particularly our hosts Emily and Lee, who I had met earlier that evening when I broke up a confrontation between Emily and a drunken man with a video camera. (I later discovered that this man was the founder of AS220.) A gentle shout out to our kind Providence proprietors, for your lasagna, for your cat in a crate, and the use of your lovely home.
The next day, with time to kill and a need for R & R, we made our way into NYC for a little time at the museum of television and radio. I highly recommend going, if you've got a taste for 10 dollar TV in a dimly lit console. Which I really do. Our individual playlists included: a 1970 Saturday morning children's television show called "Hot Dog"; the first episode of "Saturday Night Live," featuring Jim Henson's not-yet-ready for primetime puppets; the pilot for "Parker Lewis Can't Lose"; an early 80s PBS performance by Phillip Glass; a compilation of Woody Allen's early TV appearances; and Julie Andrews on Sesame Street.

The drive from NYC to Bronxville was almost disappointingly short (no time to nap), but thankfully, this means we made it in time for a Sarah Lawrence cafeteria smorgasbord with Matt, our show man.
Which leads me to a confession: for those of you whom it concerns, it was I who abandoned my toast in the toaster that night, which set off the fire alarm, which caused a total evacuation of the cafeteria and throngs of students to be turned out into the rain, which brought the fleet of fire trucks, which in turn brought me the sort of mortification that I haven't felt since grade school and things are still embarrassing. But, tragedy + time= COMEDY. Right? ?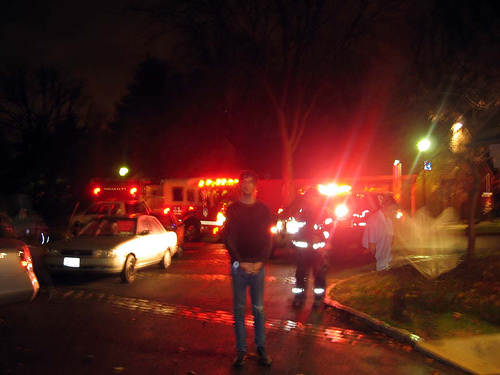 Eddy, in front of the mess I made.

And as far as our show was concerned, I adhere to the notion that the torrential downpour was what accounts for the lack of turn-out. It could be true.
That night we slept in real college dormitories, complete with discarded condom in the trash can. I'm very grateful to have experienced college. Zac, Matt and I even stole food from the campus store, like the cool kids do.
The next evening in fair Philadelphia, we really didn't know what to do with ourselves. Matt, who had been sporting heavy snow boots for a couple of weeks because he lost his reasonable shoe, had spotted a Foot Locker on our way in, and somehow convinced Eddy to trek with him for what was possibly miles until they found this locker. Zac and I, we just went to Rite Aid. I bought a fake perfume (aerosol).
We all partied really hard that night at Upstairs at Sal's, especially me. Played a good show. Got into some brawls. Took a lot of PICTUUUUURRES.
We stayed afterwards with Eddy's nice friends Morgan and Nick, in their fancy yet inviting abode. And with another bagel breakfast in us, compliments of Morgan, and a free day ahead of us, we made way for the Philadelphia art museum (ROCKY!). This, in my opinion, is almost the perfect activity for a group of people who have been cooped up with one another, only interacting with one another, for upwards of 2 weeks. Of personal excitement were the Joseph Cornell boxes, whose biography I had been reading in the car, and a Duchamp's "Given: 1 The Waterfall, 2. The Illuminating Gas.", that is supposedly his last piece of work, found posthumous. It reminded me of Enchanted Forest, except for the dead woman's body inside.
Sincerely,
Rachael Jensen
The previous entry: He's Got A Thing For Girls In Tube Tops.
The next entry: I Waant One Bagel, No Schmeeeeahh...,
More entries in the Archives