Tardy Tour Text continues, this time with conflicting missives from Misters' Crichton and Pennington. Let's get right to it, shall we?
Zac's Shack
When last we met, we were stealing away from our powerfully triumphant stop in Chicago, IL, wherein we played our first awkward encore (+1), went to a "punk" bar that turned out to be a "pop punk" bar (-1), and rolled so so deep with the many fine felines in Nathan and Jen's cat menagerie (+5). We'll call it a solid five stars.
Our exit from the city of angels was fraught with misfortune, which I think it's safe to say was mostly my fault: first, there was my selection of the aptly titled "Chicago Pizza", which, being a sit down restaurant, turned out to be a somewhat time-consuming affair. Secondly, there was the complete disregard with which I treated Ann Arbor, MI maven Sarah Stedman's time zone change reminder. Two missteps which lead us quite conveniently into our next paragraph--that of our precarious journey through states both Indiana and Michigan.
Balls-hauling our way atop the inexplicably construction-coated highways of the middle west, I somehow made up for the bulk of the hour the government had taxed away from us. We finally arrived at the headquarters of WCBN, though with more than one member of our party nearing the crest of rational breakdown--a stress soon tripled by the powerfully superfluous anxiety of our sound engineer whose insistent double "groovy" (eg "groovy, groovy") has become something of a tour battle cry. Thank god for the even-handed focus of the lady Stedman, who even-handedly ushered us through our whirlwind tour of Ann Arbor. In spite of the rush, we managed a reasonable broadcast at the studio, though there a heathy chunk of dead air at the beginning there, as I don't actually remember anyone telling us that we were "on". Sorry for the dead air, U of M.

(Photo by S.Stedman)
I've only played on the radio a couple of times before, and each experience has been arduous in a classically "character building" sort of way. One peculiarity that has remained consistent through out, however, is the nagging sense that most of the students tied comfortably to the sunlight-less basement couches of whatever technical building the school shoved the dog-earred vinyl library a few decades ago just seem more than a little annoyed that you're sidling in on their party--little to no acknowledgment, tempered with occasional blank stares. This isn't meant as a dig on college radio volunteers, as I think that this dynamic is probably a lot different if they don't think that your band totally sucks, but it's always a little strange to walk into a chat-filled room only to be met with a sudden awkward silence. Sorry for sucking so hard, U of M.
Ushered quickly over to the extremely well-lit temporary home of UMMA, we prepared for a much more successful jaunt on our part--running through the taxing entirety of our performing catalog while unintentionally belittling the no doubt categorical individuality of the whole of abnormally polite audience. Sorry for being such a dick, U of M. Due to the retail bureaucracy of UMMA, the fine, hands-tied folks at the gallery had to kick me out of the building for merch duty, leaving me looking like the common street urchin of my Out Da Trunk days.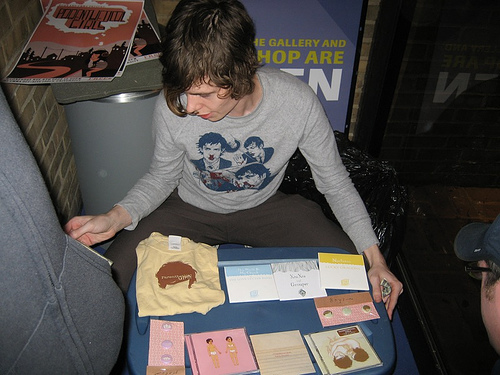 (Photo by S.Stedman)
Much credit due to Sarah Stedman, who single-handedly made this tour possible. Sorry for stealing your parking pass.
Next morning was the always nerve-racking Canadian border crossing, and though this time we approached with the confidence of a temporary work permit, Matt's ubiquitous six pack of shrooms was making us all a little nervous. Tensions rose as we were ushered into customs, were me soon befriended an aging, leather-clad rock band from Chicago called L@st Vegas (who apparently have a song on Guitar Hero 2? WHAT?!?!), whom one of the suspicious border guards simply couldn't believe we weren't together part of some grand bird flu smuggling conspiracy. We talked primarily about the rhythm guitarist's impending divorce, wherein which we were instructed not to "get caught" before the papers were dry, or it might cost us another 20 Grand. Sagely advice.
During our interrogation, Rachael and I politely asked the matronly border guard to use the facilities, having learned from our past drug-running trip that they are particularly wary of letting young people relieve themselves, in fear that we might be desperately emptying heroin suppositories into the toilets. She obliged without hesitation. Some minutes later, however, as Matt rose to use the restroom, a steely-eyed Mountie solidified his inherent superiority, exploding with a "Hey! HEY! Where do you think YOU'RE going?!?" "Um, the Bathroom?" "I don't THINK so... I'm gonna have to ask you to TAKE A SEAT." Matt feverishly complied in fear that defiance might cost us entrance, but speculated in retrospect about the possible effects had he replied "I'm going to read the Koran". I guess we'll never know. We made it into Canada.
After sharing a sweet BK meal with our new (SO BADASS) friends from Chicago, we made our way to the Boat--a beautiful, nautically themed bar in Toronto's International District. I'll let Eddy field this one, as it was really his night in the sun. Whatever that means. I wonder how L@st Vegas' night went? So badass, I bet.
The next morning we awoke in the damp, strangely luxurious screening room in Eugene's basement to load our oppressively trashy equipment into the van in the same alley where the previous evening we saw a creepy old skunk wandering around. Then things got a little French Canadian.
I'm a little ashamed to admit this, as it's a pretty classic example of my brash, occasionally cartoonish ignorance to the world around me, but before this trip I've always had a pretty hard time telling the difference between Toronto and Montreal. I mean, I had pretty vague idea about the whole French thing, and I've seen a couple of Leonard Cohen documentaries, but the preponderance of my understanding ended there. Though I left Toronto without much greater comprehension, we stumbled upon the first sign that things were going awry enroute to Montreal at a mid-highway food court--a food court which featured a stand dedicated almost entirely to french fries saturated with beef gravy and cheese curds. This was the first of many curd-related distractions that would occur in greater French Canadia. Another observation: Gas station attendants in Quebec (or at least the three that I spoke with) have virtually no interest in assisting customers with basic directions, even if the customer's destination is literally five blocks from said gas station.
The route was long and the route was hard, but we finally arrived in time to traverse the precarious stair case at the Friendship Cove, an arts collective that was to be our destination for the night. The show, for reasons having absolutely nothing to do with us, was ridiculously packed with party-hungry Canadians--exactly the sort of Canadians who would appropriately have little patience for/interest in our fey, navel-gazy musings. People were surprisingly respectful, however, and though marred by technical problems and frazzled singer person, things went somewhat better than poorly. (Incidentally, thanks to Dan at Said The Gramophone for letting me waste bandwidth with my unfortunate musings. After a soul-replenishing sleep at Romy & Sabrina's (together with the world's largest cats), we broke free of Canada's death grip to make our way to the greatest city in the world: Brooklyn.
Amid frantic set-up and virtually endless technical difficulties, our show at the Lucky Cat was yet another in our long line of shows fraught with misfortune--misfortune made all the more embarrassing due to the presence of friends Eric Irving and B.J. Rubin. This would be my fourth consecutive NYC show that I blew entirely--the three previous some years ago in classic Sam&Zac formation. I guess I just get a little psyched out. Fortunately, BJ offered us a chance at redemption some five city blocks away in the form of a loft birthday party hop-on.
Another precarious flight of stairs later, and our growing entourage came through, reeking both of sweat and failure. Our set followed that of a French duo, whose drummer performed some six months pregnant. Following their set, the super sweet birthday girl cautioned us to expedite our set up and performance due to noise complaints--a task we were happy to comply with. Our attempts to do so, however, were met with no small amount of interference by said French band's tour managers/merch guys/hangers on, who insisted that we wait for a full 15 minutes until they tore down all of the band's equipment to begin our set up. In that 15 minutes, dudes did little more than chit-chat with party-goers, maddog us, and shit-talk/threaten to spill beer upon our equipment--elements of which they ultimately decided to use as impromptu merch tables. With all due respect to the French band (who, to be fair, did have considerably more right than us to be there): you guys seemed pretty nice, but your crew were all kinds of dicks. Yet another fine notch in the bedpost of NYC failures on my part. (Allow me to direct you to a video by young Corey Smith, just to reinforce the disaster that was with a visual model.)
Thank Christ for BJ and Fiona. For their mid-living room elevator, for their Mighty Boosh, for their fancy deli sandwiches, and for their endless hospitality. We are a rough brood to accommodate, and you did a superb job. As for the Parenthetical Girls--disaster will simply not evade us.
Eddy's Eddy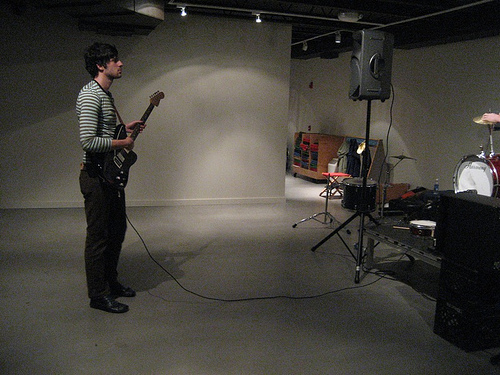 (Photo by S.Stedman)
We arrived in Ann Arbor quite late for our radio performance. I have been on the radio a half-dozen or so times in my life for on-air requests, concert ticket contests, and a highly regrettable and ill-informed call I made as an eight year old to Phoenix's sports radio station, KTAR 620 AM, in which I expressed the opinion that the Cardinals would have surely won that day's game had they given Johnny Johnson the ball and just let him run it around the outside for a TD. My reason for believing this to be sound wisdom was that everything I knew and probably everything I will ever know about professional football is based on Super Tecmo Bowl, and in the reality of Super Tecmo Bowl, giving the ball to Johnny Johnson and sending him around the outside is TD guarantee. I laid out this Lombardi-inspired strategy for the host and the KTAR listeners and I was informed on-air (rather harshly considering that I was just a child) that Johnny Johnson no longer played for the Cardinals and I felt immediately and publicly crushed.
This 1990 radio humiliation was weighing heavily upon me as we prepared to perform on U of Michigan's campus radio station, and the stress was only compounded by our tardiness and its affect on the aforementioned "Groovy Groovy" dude. We eventually got everything set up, got some appropriate levels in our cans (headphones), and awkwardly banged out four songs for the U of M listening populace, which I believe was limited to the students hanging out in the radio station lobby. Next was our show at the UM Museum, where I was surprised to find Groovy Groovy manning the sound board. I thought it was one of G.G.'s classic "jokes" when he told me that our tiny snare drum was too loud. Equilibrium be damned, though, because I really pounded that tiny drum in the Museum.
Toronto was a weird time. I didn't so much have a night in the sun, as you may have been led to believe
by Zac. Rather, I looked directly into the sun and I got burned. We were inexplicably headlining an all-grunge bill, highlights of which included an apparently anti-rape song that was preceded by what I am pretty sure was very pro-rape banter (Grunge singer: "What do you guys think of rape?" Audience: "WOOOOOOO!" Grunge singer: "Yeah.") and an authentic '91 Cobain-style drum jump/guitar degradation. P. Girls were to play immediately after the demolition session and we feared that we could not deliver the high-energy rock that they audience was now accustomed to. Our fears were only half-realized, though.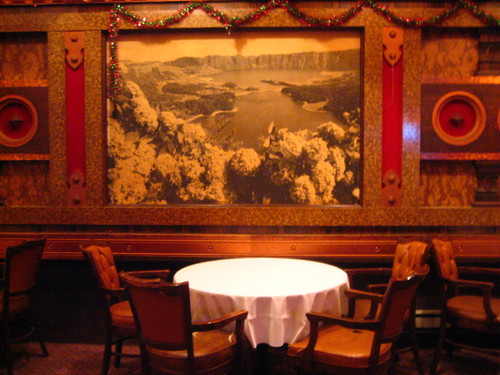 Most of the crowd did exit as we started, but those who remained somehow were able to incorporate our set into their party time. There was a couple dancing with large stuffed bear. There were two ravishing ladies; one tube-topped, the other halter-topped (the sun to my burn), who loudly encouraged Rachael throughout our set by yelling "Girl Power" at whatever times they could sense that Rachael, as a girl, was not adequately empowered. After we finished playing there were accusations made by some members of the audience that we appeared to not be having any fun. I denied this at the time, and would like to now assert with total honesty that I had a blast at our gig in Toronto and I am fairly certain that on this particular topic I am speaking for Parenthetical Girls as a whole.
Our Toronto host, Eugene, took us to his home and fed some of us jellybeans and put us to bed. We woke up to a mysteriously wet floor that left my favorite pair of socks too hopelessly wet to continue on the tour with us. Eugene took Rachael, Matt, and me on a brief walking tour of his neighborhood and filled us in on the hippie mafia that runs Toronto and the fact that French Canadians secretly eat horses.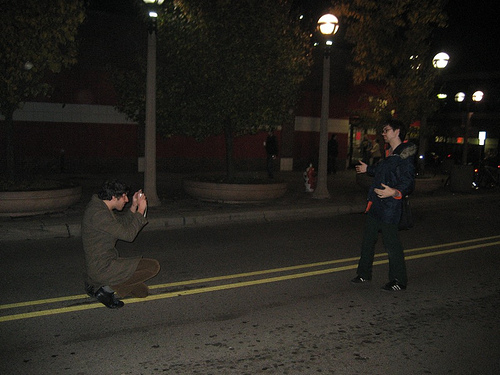 (Photo by S.Stedman)
Despite the best efforts by Google Maps to keep us from getting anywhere near Montreal, we overcame. The Cove and it's audience treated us well, though I did overhear two nonplussed girls discussing the fact that Parenthetical Girls' sound is so West Coast as to not be able to successfully cross the Rockies.
We stayed the night at Romy and Sabrina's high-rise apartment, and, except for the locked swimming pool, had a deluxe stay. In the morning Romy and Sabrina took us to a Montreal bagel eatery. People (Romy, Sabrina, Melissa Auf der Maur) will tell you that a Montreal bagel is not only unique to Montreal, but also superior to all other bagels. I simply don't see it. Our bagels were certainly unique in that they were somehow cut into 5 quarters, all of which were exactly 1/4th of a full bagel. But, other than the impossible mathematics behind the bagels, it was simply a very pleasant bagel.
Literally nothing happened in Brooklyn. Literally.
The previous entry: The pitter patter of little feet.
The next entry: Once Upon A Time In Vienna.
More entries in the Archives