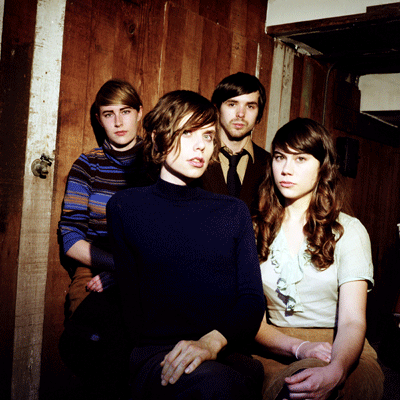 (photo by Sarah Meadows)
From Left to Right: Brenna Murphy, Empress Preenington, Matt Carlson, Rachael Jensen. Introducing Parenthetical Girls version 6.7. Sarah Meadows took some surprisingly flattering photographs of us, some of which you can check out in mega-ginormous, press-sized glory on the Pictures page. Many, many thanks to Sarah, whose artwork will also be prominently featured on the new Dead Science EP, which we just sent to the printer. It'll be out on Slender Means Society soon.
News from the front: our first show was a week ago this Sunday opening for Young People in Seattle, and all told, it was at very least a personal success. I only forgot the words once. Everyone else played better than I ever remember us playing. Rachael had a migraine. People were very kind. Additional undertakings of note: visiting both Sam and Jherek's new digs at the semi-swanky Vilville Headquarters as well as Yates' swinging bachelor pad, watching more fruitless, unsatisfying masturbation than I ever thought possible, hanging out at the Alderwood Mall and the Arboretum with my mother, and far too little QT with Jenny and her cool dog.
But now we're back. And we're getting ready.
Safe As Houses will be quietly available online beginning this week. I will keep you posted on this as soon as I can figure out the paypal stuff.Safe As Houses is now available via Mail Order!

PURCHASE SAFE AS HOUSES.
Also, if you're in Portland and you have a fake ID, consider yourself invited to our first local show in roughly a year, which is also our CD release show. It is Thursday, June 29th @ Towne Lounge, opening for Sir Imaad Wassif. Maybe it'll be good.
Hey, remember 20 Bees? Well, I guess the Parenthetical Girls platter is finally done, and we're just wrapping up the art on them as I type. So, you know... all 19 of you can start getting really pumped. The songs are "Inspirational Shortpants (avec paroles)" (which unfortunately ended up on the (((GRRRLS))) reissue before the Beez, due to unexpected delays) and "The Fragile Class," which is otherwise unavailable.
And now, the Tour update--as you can see, there are still a number of holes... we would be very grateful if you would be so kind as to fill our holes.
July:
Sat 8 - Seattle @ Sunset Tavern (with Tullycraft, Racetrack
Sun 9 - Oakland @ 21 Grand (with BARR, Lucky Dragons, Snowsuit*)
Mon 10 - San Francisco @ Hemlock (with BARR, Lucky Dragons, Snowsuit*) EARLY SHOW!
Tues 11 - Los Angeles @ Silverlake Lounge (with Lucky Dragons, Foot Foot)
Wed 12 - San Diego @ Che Cafe (with BARR and Lucky Dragons)
Thurs 13 - Flagstaff, AZ @ Hotel Monte Vista*
Fri 14 - Phoenix @ Trunkspace*
Sat 15 - Tucson @ 36 Chambers*
Sun 16 - Pomona @ TBD*
Mon 17 - Los Angeles @ Il Corral*
Tues 18 - Fresno @ TBD*
Wed 19 - Sacramento/Davis (help!)*
Thurs 20 - Boise@ House Show at 920 Pueblo
Fri 21 - Seattle, WA @ The Paradox*
Sa 22 - Vancouver, BC @ (help!)*
Su 23 - Vancouver, BC @ (help!)*
Fill our holes,
zac.
The previous entry: Act III: Wherein We Return to Claim Our Sainthood
The next entry: (UPDATE: MORE TOUR DATES!) The Long List of Shit That Fucks Up My Face.
More entries in the Archives