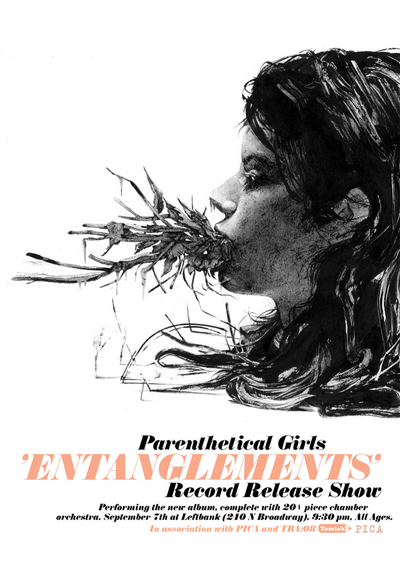 The time is nearly nigh. On Sunday, September 7th, 2008 AD, Parenthetical Girls will be performing the whole of our new record, Entanglements, for the very first (and probably only) time--complete with a 20+ piece chamber orchestra featuring some of Portland's finest. As part of PICA's illustrious Time-Based Arts Festival, the performance will be taking place at Leftbank, in Portland, Oregon, and is open to All Ages. We've been working very hard to pull this off, and would be really honored by your presence.
UPDATE: Entanglements is NOW AVAILABLE FOR MAIL ORDER!
Entanglements will be officially available (on CD, anyway) in stores on Tuesday, September 9th. In the meantime, we've got a few treats for you. Firstly, the disc is now available for mail order via Slender Means Society (in North America) and Tomlab (e'rwhere else). Slender Means Society is presently running a special that will include all of the Parenthetical Girls' albums for paltry $30--so if you're feeling especially guilty about your piracies lately, this could be an excellent opportunity to make right with God.
ALSO: TOUR DATES!!!
Meanwhile, we've just announced some exciting, far-flung dates with the presumably fine folks of Sunset Rubdown, beginning like SO SOON. Many more non-Sunset Rubdown dates to follow very shortly:
SEPT 16: Brooklyn, NY - Music Hall of Williamsburg w/Sunset Rubdown
SEPT 18: Philadelphia, PA - First Unitarian Church w/Sunset Rubdown
SEPT 19: Washington, DC - Black Cat w/Sunset Rubdown
SEPT 20: Columbus, OH - Skully's Music Dine w/Sunset Rubdown
SEPT 21: Chicago, IL - Beat Kitchen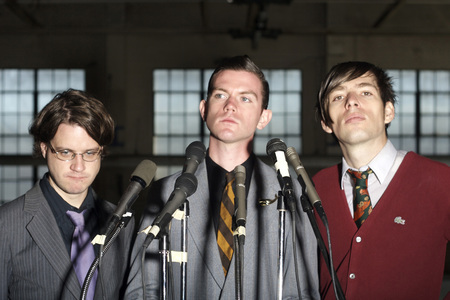 Oh, and say--how about another totally narcissistic commissioned cover, while we're already here? This one comes your way from the deepest, darkest dudes of The Dead Science. They've re-envisioned "Young Eucharists" in a strikingly soulful mold. Maybe I wrote this song for Sam to sing without knowing it. You like?
THE DEAD SCIENCE—"YOUNG EUCHARISTS"
...and while we're at it, here's No Kids' take on "This Regrettable End" one more time:
NO KIDS—THIS REGRETTABLE END

More covers coming soon! Thank you for your patronage!
Temporarily Yours,
(((GRRRLS)))
The previous entry: An .M4A For Ellie Greenwich.
The next entry: Darlings Of Indifference.
More entries in the Archives