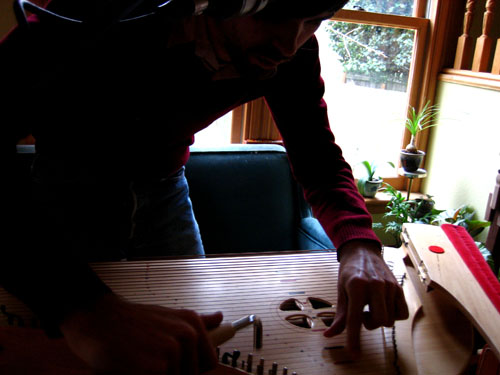 Since we last spoke, there hath passed a bushel of setbacks and false starts in the process of the Entanglements recording sessions--whereas we were meant to begin in September, and then again in October, logistical delays forwarded our actual start date up until the second week of November. In spite of seemingly insurmountable odds, Jherek, Matt, and I--with the ridiculously gracious help of some double-digit guest musicians--got a great deal done over the course of our ten days in Seattle. Then estimates suggested the record was something like half finished, if such fuzzy math can be believed. Most sincere props go out to Linda Carlson and Jamie Potter for their unbelievable hospitality during this shaky times.
We are presently in Portland, on a comedown from our second of an estimated three recording sessions (including many exotic recording locales), with some now 10 or 11 total songs still in various states of undress. Slightly less risque. perhaps seventy-five percent? We're talkin' maybe house clothes? With any luck, the finished product will be something more tails and top hat. Looking forward.
As the Parenthetical Girls' Christmas series is a biennial endeavor, there will be no additional (((GRRRLS))) songs to add to your personal holiday cannon, but stay tuned for something of a less labor-intensive Christmas present within these pages very shortly.
Yours Secularly,
Zac Pennington
Parenthetical Girls
The previous entry: Just Because It's a Bunch Of Dudes Playing Middling Indie Rock Doesn't Mean It Isn't a Performance Art Piece.
The next entry: A Rough Guide to Xmas.
More entries in the Archives