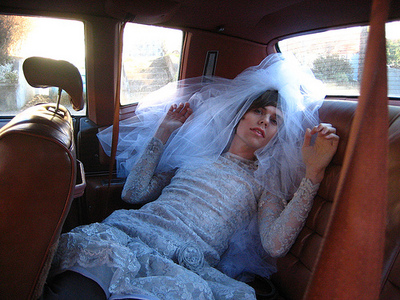 UPDATED! AGAIN!
Oh shit... did I forget to tell you that we're going on tour? Well, sort of anyway. And with The Dead Science, no less. Due to unforeseen circumstances, our tour has had to be re-routed pretty last minute--so if it looks like there's a lot of holes, that's probably because there is. And yes, I am officially losing my shit. If all goes as planned, we will have the belated vinyl version of Safe As Houses (courtesy of the fine folks at Oedipus Records) tucked under our arms, as well as--fingers crossed--the extremely belated Dead Science/Parenthetical Girls split 7" (courtesy of, among others, Silencio Recordings). So, without further ado:
presenting...
THE (((GRRRLS)))/DEAD SCIENCE: NO BAD BLOOD TOUR 2007
Fri, Mar. 9th - Seattle - Atlas Clothing Warehouse (w/BARR, Marnie Stern, Sholi, PWRFL POWER)
Sat, Mar. 10th - Portland - Someday Lounge (w/Sholi, Ghost To Falco)
Weds, Mar. 14th - Oakland - 21 Grand
Thurs, Mar. 15th - San Luis Obispo - Steynberg Gallery (w/The Louvre)
Fri, Mar. 16th - Upland, CA - Old Baldy Brewery
Sat, Mar. 17th - Los Angeles, CA - the Smell (w/This Song Is a Mess, Ancient Plague Mummy Massacre Incarnate Osiris, Daughters Tremaine)
Mon, Mar. 19th - Phoenix - Trunkspace (w/Princess Lady Friend, Tent City, Flux Conquistador)
Weds, Mar. 21st - Oklahoma City, OK - the Conservatory
Thurs, Mar. 22nd - Austin - Mohawk (w/Weird Weeds)
Fri, Mar. 23rd - Houston - Super Happy Fun Land
Sat, Mar. 24th - Louisiana - Dragon's Den
Sun, Mar. 25th - Little Rock - The Treehouse
Mon, Mar. 26th - Chicago - Abbey Pub (w/Home Recording Project)
Tues, Mar. 27th - Grand Rapids, MI - The DAAC
Weds, Mar. 28th - Detroit - Scrummage University
Thurs, Mar. 29th - Cleveland - Tower 2012
Fri, Mar. 30th - Rochester, NY - Bug Jar (w/Shapes and Sizes)
Sat, Mar. 31st - Troy, NY - RPI/Ground Zero
Sun, Apr. 1st - North Adams, Mass. - Contemporary Arts Center
Mon, Apr. 2nd - Boston - P.A.'s Lounge
Tues, April 3rd - Washington D.C. - Warehouse Next Door
Weds, April 4th - Philadelphia - Inciting HQ
Thurs, April 5th - NYC - Cakeshop (w/Craig Wedren)
...at which point the Dead Science and (((GRRRLS))) part ways...
Fri, April 6th - NYC - Uncle Paulie's (w/Creeping Nobodies)
Sat, April 7th - Baltimore - TBA
Sun, April 8th - Cincinatti - Skull Lab
Mon, April 9th - Bloomington - TBA
Tues, April 10th - St. Louis - Lemp Arts
Wed, April 11th - Illinois - Courtyard Cafe/U of I
Thurs, April 12th - Nebraska - House Show TBA
Fri, April 13th - Denver - Hi Dive
Sat, April 14th - UTAH - HELP!!!
Sun, April 15th - Boise - VaC (w/Nom De Plume)
That looks pretty bad, doesn't it? But fear not, friends... it will hopefully not look so bad very soon. As per usual, if you see a "HELP!!!" that you might be able to, well, help with, please let us know. We'd love to hear from you.
Oh, right... and next up: EUROPA. Stay tuned.
The previous entry: Your Secular Alternative.
The next entry: Polychronopolous.
More entries in the Archives