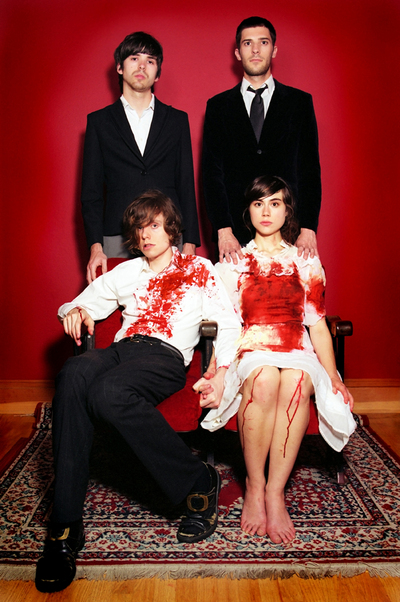 (the photo that Pitchfork... DIDN"T WANT YOU TO SEE!)
A few simple updates: we've officially updated the "labels" tab on our Myspace page. We're very pleased to announce that—if you have the decency to wait until September 9th—you'll will be able to legally hear our new record, via those fine (so fine) Germans at Tomlab. We're honored to join their exceptional roster, which includes a great many friends of ours. Very excited!
Additionally, the David Horvitz Picture Disc is NOW AVAILABLE ONLINE.
(Check out one of the jams over yonder:)

MAY:
SLENDER MEANS SOCIETY/AAGOO REVUE
Shows with PWRFL POWER & Au
24 - PORTLAND, OR @ BACKSPACE (All Ages)
25 - DAVIS, CA @ FIREHOUSE (All Ages)
26 - IRVINE, CA @ UC IRVINE (All Ages)
27 - SAN DIEGO, CA @ CHE CAFE (All Ages)
28 - LOS ANGELES, CA @ THE SMELL (w/Abe Vigoda, All Ages)
29 - SAN LUIS OBISPO, CA @ RETROSPECT (All Ages)
30 - SAN FRANCISCO, CA @ CALL NICK PARK @ 415-730-2013 (All Ages)
"BEDWETTERS OF THE WORLD..." TOUR
w/LOS CAMPESINOS!
31 - SEATTLE, WA @ NEUMOS (All Ages)
JUNE
1 - VANCOUVER, BC @ PLAZA CLUB (All Ages)
2 - PORTLAND, OR @ DOUG FIR LOUNGE (21 +, Sorry)
3 - EUGENE, OR @ WOW HALL (All Ages)
4 - SACRAMENTO, CA @ HARLOW'S NIGHT CLUB (21 +, Sorry)
6 - SAN FRANCISCO, CA @ BIMBO'S 365 CLUB (18+)
7 - WEST HOLLYWOOD, CA @ TROUBADOUR (All Ages)
8 - POMONA, CA @ GLASS HOUSE (All Ages)
The previous entry: Like an Orphan On The Wave.
The next entry: More Than Words Can Say.
More entries in the Archives